I currently live in Buffalo, NY, which is next to Lake Erie and near Niagara Falls and Lake Ontario.
Can you find it on the map?
In Buffalo, we do not usually suffer from earthquakes, tornadoes, hurricanes or fires caused by drought. What we are famous for is snow and blizzards. There is also a special phenomenon that occurs here called Lake Effect Snow.
What is Lake Effect Snow?
Basically, it is a snowstorm that is caused when cold air blows over warm water. Currently, the water temperature in Lake Erie is 8°C and the air temperature 1500m up is -16°C. As the temperatures try to balance out and the air picks up the water vapor from the lake, it creates a giant snow making machine!
Wind direction plays a huge role in determining which areas will get snow. Take a look at this picture:
In the past 24 hours the wind direction has barely changed at all. The areas in black have gotten very little to no snow (~3cm). While the areas in blue have received a tremendous amount of snow (~125cm)!! What a difference a 5-10km can make!!
The weather is reporting that this storm will last another day or two and that the wind direction will probably change a little bit over that time, spreading the snow out to other areas as well. Even though we are used to snow in this area- this is an extreme amount of snow- especially for this time of the year! The National Guard has been called in to help us clear the snow.
Here is a picture to give you a better idea: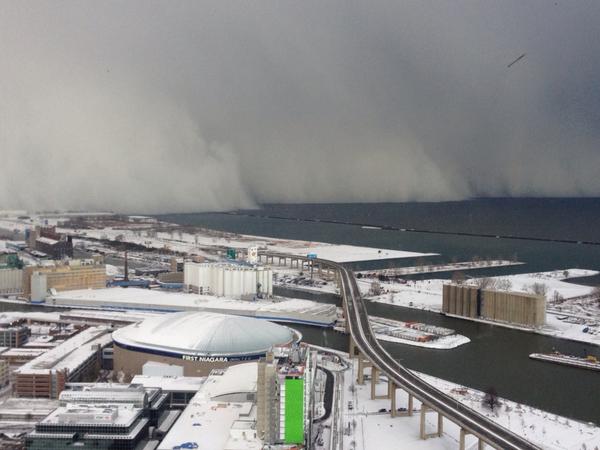 It shows downtown Buffalo which has roughly 3 cm of snow and a wall of snow coming off of the lake and hitting areas south of Buffalo.
A few more ..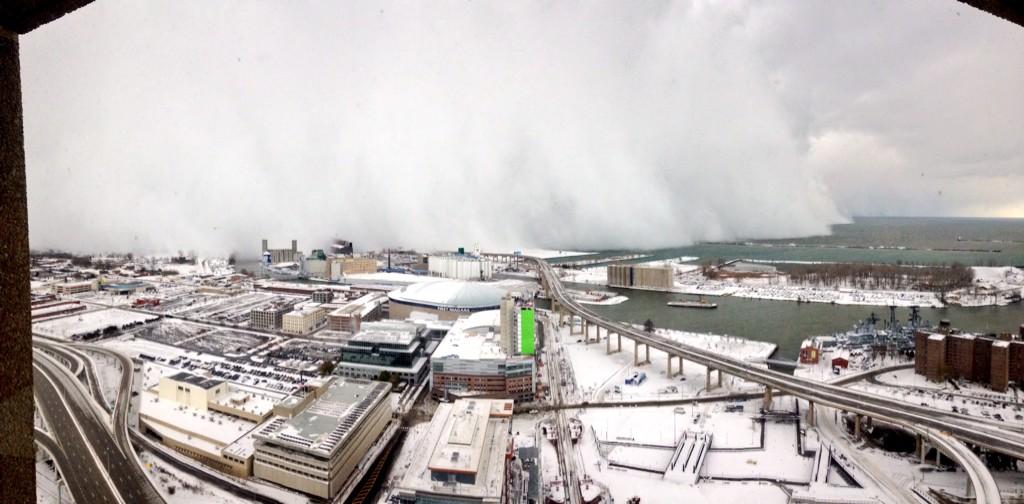 Here is a time-lapse video of the storm:
https://www.youtube.com/watch?v=VxuacZudBPU
And one more pic ...
Brilliant!
_____________________________________________________________________
UPDATED: More pics...