Life Hacks for the Sweet Tooth - Some Easy Nutella Sweet Treats for You!
(And nope, I wasn't paid to advertise :) )
I'm a self-confessed sweet tooth, and more often than not, I would crave for food that gives me the pleasurable buzz of sweetness that my taste buds are looking for. So here are some easy to make snacks & a drink using a popular chocolate-hazelnut spread ~ Nutella.
These easy to make yummy snacks will satisfy your cravings without breaking your budget. They're made from ingredients that can be readily available in your own home or in supermarkets or convenience stores.
Also featured is a recipe on how to make your very own homemade Nutella.
1) Nutella Pops
Blend 1 cup of full cream milk with 1/3 cup Nutella (or any available chocolate-hazelnut spread of your choice) in a blender for 2 minutes.

Pour into popsicle moulds and freeze for at least 3 hours until set.

Ingredients


Instructions
Preheat oven at 310 F or 154 C

Add Nutella & egg and whisk together.

When blended, add the flour and mix well.

Lightly grease or line baking pan with parchment paper.

Bake for 6 to 8 minutes .
3) Nutella Hot Chocolate


Ingredients

1 cup milk
1 1/2- 2 tbsp Nutella

Instructions
Heat milk in microwave or stove until almost boiling Microwave approximately on HIGH for 30 seconds.

Add in the Nutella and stir until completely mixed and melted.

If using microwave, you may need to reheat the milk after adding the Nutella to get it completely melted. Microwave on high for 1 minute or until hot to your taste.

Mix again.
4) Nutella Brownie in a Mug
Ingredients
1/4 cup Nutella
1 large egg
1/2 tbsp dutch processed cocoa powder
Instructions
Combine all ingredients in an oversized microwave-safe mug.

Mix vigorously with a small whisk until batter is smooth and the egg has been completely mixed in.

Cook in the microwave for about 1 minute 10 seconds. The cake should be set but may be slightly wet on top.

Let cake cool for 15 minutes before serving. The cake will condense down during this cooling process. You can replate in a smaller mug/plate/ramekin before serving.

You can top with powdered sugar or chocolate syrup.
source : https://kirbiecravings.com/3-ingredient-flourless-nutella-mug-cake/

5) Nutella Dipped Frozen Bananas
crushed nuts, coconut, sprinkles for garnish (optional)
Peel and halve the bananas crosswise.

Insert a popsicle or lollipop stick into each half.

Place the bananas on a parchment lined baking sheet and chill in the freezer for 20 minutes.

Place the Nutella in a small bowl.

Roll each banana in the Nutella or spread using a small spatula. If you find your Nutella is too firm, you can warm it very briefly (15 seconds or so) in the microwave, stir it well, and roll the bananas to coat.

Garnish with nuts, coconut, or sprinkles if you wish.

Place the bananas back on the parchment lined sheet and return to the freezer to chill for 30 minutes, then enjoy!
source :
https://kitchenconfidante.com/nutella-dipped-frozen-bananas-recipe



***BONUS***
Easy Homemade Nutella!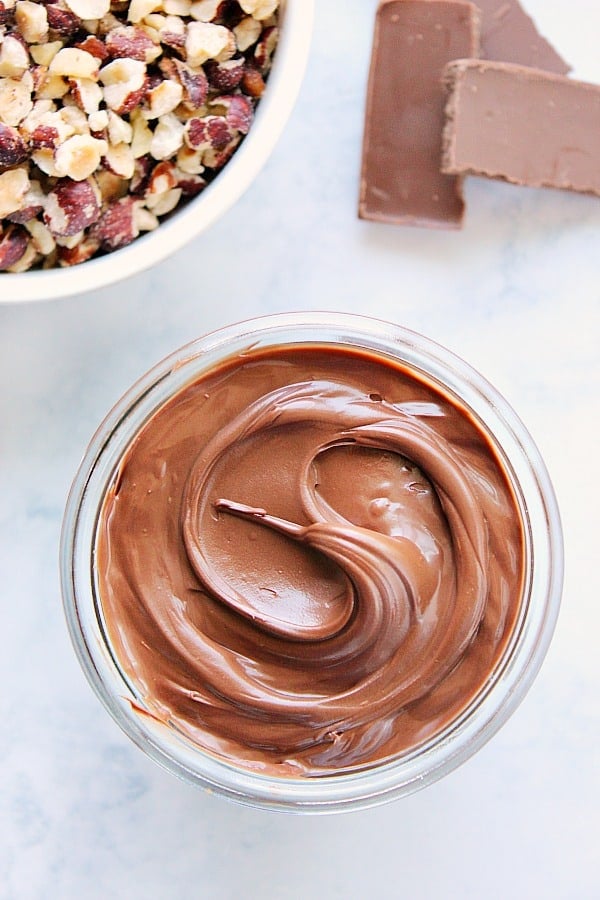 Ingredients

8 oz. hazelnuts
1 cup powdered sugar
1/3 cup unsweetened cocoa powder
2 Tbsp oil canola or melted coconut oil
1 tsp vanilla
1 tsp salt
1/4 cup chopped chocolate or semi-sweet chocolate chips optional

Instructions
Preheat oven to 375 degrees F. Line a baking sheet with parchment paper or silicone baking mat. Place hazelnuts on the sheet. Roast for 12 to 15 minutes. Watch them after the 10th minute if they are not browning too fast.

Remove from the oven and transfer onto a clean kitchen towel. Let cool until safe to the touch.

When cooled, gently rub the nuts with the towel until the skin comes off.




Place nuts in food processor and process until finely ground. Scrape the sides of the food processor bowl as needed.

Process nuts until the start to liquify. It can take about 5 minutes. Stop the food processor as needed to scrape the sides of the bowl.

Add powdered sugar and cocoa. Mix until well combined.

With the food processor running, drizzle in the oil and vanilla. Process until smooth.

Add the salt and process for 5 seconds.

I added the chocolate chips are this point and processed until it all comes together. You may need to add more oil if the mixture clumps up.

Scrape the spread into a clean jar. Store in refrigerator for up to 1 month.

If using coconut oil, you may need to let the spread sit on the counter to soften before using.
source:https://www.crunchycreamysweet.com/homemade-nutella-chocolate-hazelnut-spread/