Claire
Intensive French Conversation
Paket mit 15 Kursen

Intensive French Conversation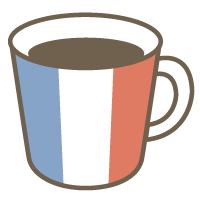 15Min. 9,500P (633 Punkte pro Kurs)
Hat Schnupperkurs
15Min. 700P
Skypekurs
Looking for a dramatic improvement in your French conversation skills? Then, this lesson pack is for you!

Lehrmaterial
Eigene Materialien
Kurspaket Inhalt
Dies ist ein 15-Kurse Paket. Du erhältst 14 "Gutscheine" sobald die Buchung bestätigt wurde. Mit den Gutscheinen kannst Du dann die verbleibenden Kurse buchen. Bitte beachte, dass alle Kurse in diesem Kurspaket innerhalb von 60 Tagen ab Bestätigungsdatum der ersten Kursbuchung belegt werden müssen, da sie sonst verfallen.
Kursinhalt
This lesson pack is perfect for those students who

want to improve their conversation skills
can hear and understand French, but often have a hard time coming up with the words to reply
prefer taking a short intensive lesson every day to have an hour-long lesson every once in a while
would rather feel comfortable reading scripts than having a free conversation.

Practice daily expressions and phrases with me, until you become able to use them in your French conversation!
We will do quick role-plays and dictation practices as well.



【 Cafetalk Translation / February 2019 】
Cafetalk Rücktrittsregelung
Cancellation of pack lessons
• 'Unstarted' lesson packs
(1)
can be cancelled any time. Used Points will be completely refunded. If a 'started' lesson pack
(2)
is cancelled, you will be refunded 50% of the price of the remaining lessons provided that the lessons are unrequested, unconfirmed or not within 24 hours of their scheduled start times.
(1) A lesson pack for which none of the requests have been confirmed by the tutor.
(2) A lesson pack with at least one confirmed request. (By confirming the date and time for the first lesson in the pack the tutor confirms the pack as a whole and coupons are automatically issued)
Cancelling individual requests in a pack
• If you wish to cancel a single lesson that belongs to a pack but not the whole pack, you can do so via the request page. In this case, the coupon used to book the lesson will either be refunded or collected, based on the following policy.
---
Vor der Bestätigung einer Kursbuchung
• Stornierung jederzeit möglich
Nach der Bestätigung einer Kursbuchung
•
Mehr als 24 Stunden
vor Kursbeginn→ Stornierung jederzeit möglich
•
Weniger als 24 Stunden
vor Kursbeginn→ Stornogebühren können anfallen.
•
No-Show
→ Stornogebühren können anfallen.
(Der Betrag kann je nach TutorIn variieren. Bitte nimm Kontakt mit Deiner Tutorin/ Deinem Tutor auf.)
Tutorenprofil

From:

In:

Ja
Alle Kurse von dieser/m TutorIn
Mögliche Kurszeiten
---
※ Anzeige in: Asia/Tokyo. Melde Dich an um die Zeiten in Deiner Zeitzone anzuzeigen.
Bewertungen von Schülern (118)
***aki3

今日もありがとうございました。フランス語で電車の切符が買えるようになりました!嬉しい〜(^ ^)曜日と数字がまだまだ怪しいですが、Claire先生のレッスンを始める5ヶ月前と比べ、言えるようになった事がとても増えました。ありがとうございます!もっと続けて日常会話がすっと出てくるくらいになりたいです。… more

Mittwoch, 16. Oktober 2019, 12:14

***aki3

今日もありがとうございました。とっても充実した15分でした。たどたどしいですが、Claire先生がゆっくり待っていてくださるので口に出していうことができて、とても練習になります。Claire先生のレッスンを始めるまでは、こんなに長い(これでもまだまだ初心者ですが)文を理解して、質問を聞いて自分の口で… more

Dienstag, 15. Oktober 2019, 12:18

***n723

C'était bien. Le sujet de l'art était intéressant :-) Merci beaucoup!

Dienstag, 15. Oktober 2019, 03:57

***n723

C'était très bien. :-) 過去に受講していた別の教室での1レッスン1時間週1回だと、問題点を見つけても間が空きすぎてて感覚を忘れてしまったり、時間が長いのかしてその場しのぎ的に話したことがありました。でも、今のレッスン頻度と時間だと、全力投球が出来… more

Samstag, 12. Oktober 2019, 08:42

***achann

毎回フリートークではなかなか単語が出てこないのですが、claire先生はいつも分かりやすく説明してくださいます。 初心者でも優しい先生なので楽しくレッスンできます。沢山単語も覚えて、もっと色々話せるように頑張ります!

Donnerstag, 10. Oktober 2019, 11:37