Paket mit 15 Kursen

Level-up your French !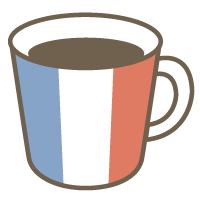 15Min. 7,500P (500 Punkte pro Kurs)
Skypekurs
Choose the content (grammar/ vocabulary/ free talk/ pronunciation) and drastically increase your level

Lehrmaterial
In Absprache
Kurspaket Inhalt
Dies ist ein 15-Kurse Paket. Du erhältst 14 "Gutscheine" sobald die Buchung bestätigt wurde. Mit den Gutscheinen kannst Du dann die verbleibenden Kurse buchen. Bitte beachte, dass alle Kurse in diesem Kurspaket innerhalb von 30 Tagen ab Bestätigungsdatum der ersten Kursbuchung belegt werden müssen, da sie sonst verfallen.
Kursinhalt
This lesson is especially designed for:

Someone who want to increase his/ her level quickly and drastically
People who has little time to learn French.
You can focus on:
Grammar
Vocabulary
Pronunciation
Speaking
This is a specially designed lesson for someone who wants to improve quickly by working hard.
"I have an A2 level and I want to master grammar and vocabulary for level B1", "I want to be able to chat quickly with my French friends"...
Just tell me your goal and we will reach it together !!!
Rücktrittsregelung der/des TutorIn
Cancellation of pack lessons
• 'Unstarted' lesson packs
(1)
can be cancelled any time. Used Points will be completely refunded. If a 'started' lesson pack
(2)
is cancelled, you will be refunded 50% of the price of the remaining lessons provided that the lessons are unrequested, unconfirmed or not within 24 hours of their scheduled start times.
(1) A lesson pack for which none of the requests have been confirmed by the tutor.
(2) A lesson pack with at least one confirmed request. (By confirming the date and time for the first lesson in the pack the tutor confirms the pack as a whole and coupons are automatically issued)
Cancelling individual requests in a pack
• If you wish to cancel a single lesson that belongs to a pack but not the whole pack, you can do so via the request page. In this case, the coupon used to book the lesson will either be refunded or collected, based on the following policy.
---
Vor der Bestätigung einer Kursbuchung
• Stornierung jederzeit möglich
Nach der Bestätigung einer Kursbuchung
•
Weniger als 12 Stunden
vor Kursbeginn→ Coupon will be consumed.
•
No-Show
→ Coupon will be consumed.
Tutorenprofil


From:

In:

Ja
Mögliche Kurszeiten
| | | | | |
| --- | --- | --- | --- | --- |
| Mo | 06:00 | - | | 23:30 |
| Di | 06:00 | - | | 23:30 |
| Mi | 06:00 | - | | 23:30 |
| Do | 06:00 | - | | 23:30 |
| Fr | 06:00 | - | | 23:30 |
Hello everyone, my name is Nico. I'm living in Kansai, Japan. ♪ My career history I have a university degree in French Teaching (FLE) and French Literature. In my native country, I mainly worke...
Alle Kurse von dieser/m TutorIn
Mögliche Kurszeiten
---
※ Anzeige in: Asia/Tokyo. Melde Dich an um die Zeiten in Deiner Zeitzone anzuzeigen.
Bewertungen von Schülern (3)
***ko.S

15回のレッスンパックを受講しました。手持ちのテキストに沿って丁寧に進めてくださったので、発音とコミュニケーションが上達しました。レッスンの最初や最後に週末のできごとやこれからの予定を聞いてくださり、自分に関連する生きたフランス語表現も身に着けることができました。Nico先生、ありがとうございました… more

Dienstag, 1. Oktober 2019, 18:22

***st

とても親切な先生です。わからないことは、どんな小さなことも真剣に答えてくださいます。

Donnerstag, 19. September 2019, 09:50

***ko.S

発音と会話を集中して練習したかったので受講しました。毎回15分のレッスンは、時間の短さを感じさせず毎回とても充実していました。テキストの会話文をゆっくり読んで発音を確認し、ロールプレイで繰り返して練習しました。質問にも丁寧かつ的確に答えて下さり、15回のレッスンで上達を実感できました。Nico先生、… more

Dienstag, 3. September 2019, 12:09