Pack of 5

FUTSUKEN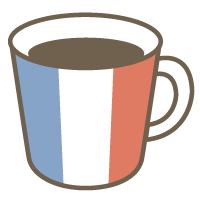 35min 6,000 Points (1,200 Points per lesson)
Has Trial
35min 500 Points
Skype Lesson
The Futsuken is a French test designed for Japanese learners.

Material
Original Material
Lesson Pack Details
This is a 5-lesson pack. You will be issued 4 "coupons" when the first request is confirmed. You will be able to use these coupons for subsequent requests in the pack. Please note that all requests related to this pack must be taken within 30 days of the confirmation date of the first request.
Description
If you wish to improve your French proficiency in no time, this may be the lesson for you!

The lesson is based on the practice of the exam (practice makes perfect!).
I will send you one section of the exam that you will need to complete before the lesson.

During the lesson, I will correct your mistakes and give you explanations and advices to improve. Then, we will do more practice together.
Cafetalk's cancellation policy
Cancellation of pack lessons
• 'Unstarted' lesson packs
(1)
can be cancelled any time. Used Points will be completely refunded. If a 'started' lesson pack
(2)
is cancelled, you will be refunded 50% of the price of the remaining lessons provided that the lessons are unrequested, unconfirmed or not within 24 hours of their scheduled start times.
(1) A lesson pack for which none of the requests have been confirmed by the tutor.
(2) A lesson pack with at least one confirmed request. (By confirming the date and time for the first lesson in the pack the tutor confirms the pack as a whole and coupons are automatically issued)
Cancelling individual requests in a pack
• If you wish to cancel a single lesson that belongs to a pack but not the whole pack, you can do so via the request page. In this case, the coupon used to book the lesson will either be refunded or collected, based on the following policy.
---
Before request is confirmed (fixed)
• Cancellation possible at any time without charge.
After request is confirmed (fixed)
•
More than 24 hours
before lesson start time.→ Cancellation is possible at any time.
•
Less than 24 hours
before lesson start time.→ The tutor may take a cancellation fee.
•
No-Show
→ The tutor may take a cancellation fee.
(Please check with the tutor for details.)
Tutor's profile

From:

In:

1464

Lessons

229

Students
Yes
All lessons offered by this tutor
Available Times
---
※ Times are shown in Asia/Tokyo. They'll convert to your timezone when you log in.
Feedback (18)
***icafe0412

仏検レッスン4回目でした。 少しずつ、自分には何が足りないのか どの部分を理解できていないのか、分かるようになってきました。 先生の授業は本当に楽しく、いつもあっという間です☺

***icafe0412

仏検猛勉強Lessonがスタートしました。 先生のLessonで文法をしっかり勉強するのは初めてですが、 想像以上に充実したとっても分かりやすいLessonで、受講してよかった! 仏検を目指す方にはぜひ、おススメしたいLessonです!

***igashrachkano175558

今日もありがとうございました!まだまだフランス語を読むのがたどたどしいのですが、励ましてくださり、仏検の問題を解いていたのですが、正解したらSuper!と言ってくださりとても嬉しかったです。

***igashrachkano175558

今日もありがとうございました。フランス語の文章の意味がわからなかったので、Claire先生は日本語をなるべく使わないけれども私の理解が乏しくて日本語で説明していただかないと理解出来ませんでした。日頃から文章を読むのと動詞をもっと覚えないといけないと思いました。

***igashrachkano175558

Claire先生は私がわからない単語を別の単語に言い換えて理解させようとしてくださいます。発音が時々わからなくて助けていただきました。文章の内容についての質問でしたが、引っかけ問題とかあって注意深く聞かないといけないと思いました。私のつたないフランス語も聞いてくださり、間違っているところはタイプして… more