Gabi
Apprenez le français tout en musique!
Apprenez le français tout en musique!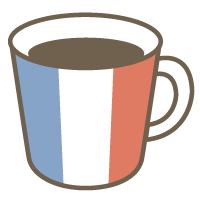 50Min. 2,000P
Hat Schnupperkurs
10Min. 0P
Skypekurs
Discover new music, or bring in your favorite song!

Lehrmaterial
In Absprache
Kursinhalt
FIRST LESSON WITH ME? TAKE THE FREE TRIAL SO WE CAN TALK AND I CAN MAKE A LESSON PLAN

Ever wondered what your favorite song meant?
Or wished to discover new music in the language you're learning?
This is the lesson for you!

PREPARATION
Choose a song, or tell me what style you enjoy so I can suggest one
Tip: Choose a song that has some content in the lyrics (Not Baby, baby, oooh) if you want to get the most out of your lesson.

Listen to the song, first without the lyrics, and try to understand the general idea.
Listen to the song again, with the lyrics, and write down anything you do not quite understand, or question you may have.

LESSON

10 min: General talk
Why did you choose this song?
Do you know any other song by that artist?
What do you think is the general message of the song?

10 min: Activity
Listen to the song and fill in the gaps (NO CHEATING!)

20 min: Specific Learning
Learn or revise a notion necessary to understanding the song
Ex: Use of conditonal, compound verbs, idioms, wordplay, historical/social context, etc.

10 min: Karaoke together!
Now that you fully understand the lyrics, let's sing them together and have some fun with pronounciation!
No performance pressure here, we are just having fun to apply what you learned, and if you prefer not to, this step is not mandatory.
Rücktrittsregelung der/des TutorIn
Vor der Bestätigung einer Kursbuchung
• Stornierung jederzeit möglich

Nach der Bestätigung einer Kursbuchung
• Weniger als 6 Stunden vor Kursbeginn→ 100% des Kurspreises wird einbehalten.
• Weniger als 24 Stunden vor Kursbeginn→ 50% des Kurspreises wird einbehalten.
• No-Show→ 100% des Kurspreises wird einbehalten.
Tutorenprofil

From:

In:

Ja
Alle Kurse von dieser/m TutorIn
All Lessons
Englisch
Französisch
Spanisch
Mögliche Kurszeiten
---
※ Anzeige in: Asia/Tokyo. Melde Dich an um die Zeiten in Deiner Zeitzone anzuzeigen.
Bewertungen von Schülern
Es gibt noch keine Bewertungen.