Vanessa.M
Conversation in German - 25 Minutes
Pack of 10

Conversation in German - 25 Minutes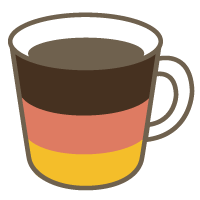 25min 15,000 Points (1,500 Points per lesson)
Skype Lesson
Lessonpack ♫

Material
Flexible
Lesson Pack Details
This is a 10-lesson pack. You will be issued 9 "coupons" when the first request is confirmed. You will be able to use these coupons for subsequent requests in the pack. Please note that all requests related to this pack must be taken within 90 days of the confirmation date of the first request.
Description
In this conversation course we can talk about any topic that is interesting to you.


Please note: Conversation courses are most effective for learners at an intermediate level. Nevertheless, if you still are a beginner and would like to practice speaking and listening, that is no problem at all :)

∆ Feedback included
This tutor's cancellation policy
Cancellation of pack lessons
• 'Unstarted' lesson packs
(1)
can be cancelled any time. Used Points will be completely refunded. If a 'started' lesson pack
(2)
is cancelled, you will be refunded 50% of the price of the remaining lessons provided that the lessons are unrequested, unconfirmed or not within 24 hours of their scheduled start times.
(1) A lesson pack for which none of the requests have been confirmed by the tutor.
(2) A lesson pack with at least one confirmed request. (By confirming the date and time for the first lesson in the pack the tutor confirms the pack as a whole and coupons are automatically issued)
Cancelling individual requests in a pack
• If you wish to cancel a single lesson that belongs to a pack but not the whole pack, you can do so via the request page. In this case, the coupon used to book the lesson will either be refunded or collected, based on the following policy.
---
Before request is confirmed (fixed)
• Cancellation possible at any time without charge.
After request is confirmed (fixed)
• Less than
48hours
before lesson start time.→ Coupon will be consumed.
•
No-Show
→ Coupon will be consumed.
Tutor's profile

From:

In:

1071

Lessons

264

Students
Yes
Available Times
| | | | | |
| --- | --- | --- | --- | --- |
| Mon | 16:00 | - | | 21:30 |
| Tue | 16:00 | - | | 21:30 |
| Wed | 18:30 | - | | 21:30 |
| Thu | 16:00 | - | | 21:30 |
| Fri | 16:00 | - | | 19:00 |
May change depending on week
Guten Tag ♡ My name is Vanessa, I´m half German half Italian and I´m currently living in Düsseldorf, Germany. In 2012 I completed the certificate "German as a foreign language" b...
All lessons offered by this tutor
All Lessons
German
Counseling
Academic Tutoring
Available Times
---
※ Times are shown in Asia/Tokyo. They'll convert to your timezone when you log in.
Feedback (29)
***higorou1208

Ihr Unterricht macht mir immer Spass. Und ihr Feedback ist sehr hilfreich. Sie korrigiert meine Fehler ganz genau. Ich kann mit dem Feedback nach de… more

Cafetalk (* Auto-generated feedback)

The tutor did not show up for the lesson

***linlocal

ヴァネッサのレッスンの素晴らしいところは、会話の流れを絶やさないところです。会話中に、間違いや注意点をPCに書き込みながら対応しているので(でもちゃんと話は聞いてくれている)、話を途中で止めることなく、とにかく話す時間を長くとってくれます。 もう一つの素晴らしいところは、レッスン後のフィードバック… more

***RUS

Vanessaはとても忍耐強く、しかも的確にレッスンを進めてくれます。 いつも優しい可愛らしい笑顔で、ほっと安心させてくれる先生です。 毎回のレッスンの後には、ポイントをついた丁寧なフィードバックを送ってくれます。 レッスンが終わってから、フィードバックを作成するのは手間も時間もかかると思いま… more

***KO

いつも楽しいレッスンをしていただけます。 会話中スカイプ画面に言った内容を文字で表示してくれて 聞き取れなかった部分を目でも確認できます。 また、レッスンごとに今日会話した内容をフィードバックしていただけるので、 先生が言った内容で聞き取れなかった部分も、 「あ~こう言ってたんだ~」と復習… more