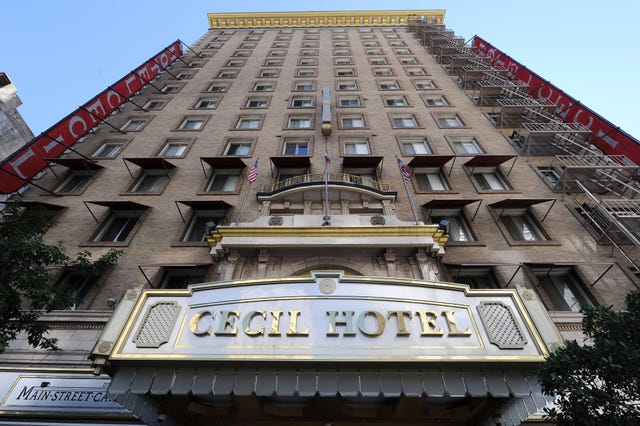 Hello Cafetalk Community!
How are you doing? I'm doing just fine and I'm teaching English every day! You're not going to believe how cold it's been here in Saskatchewan, Canada! There was an Emergency Cold Forecast recently. It could get anywhere from minus -30 to minus -50 below zero (celsius). When I was living in California until 4 years ago, I thought scarves, hats, gloves, and boots were cool fashion statements. Here, in Canada, it's a necessity. I don't go outside much, but sometimes it's troublesome to go outside fully prepared and dressed for the harsh weather.
I hear it's becoming warmer in Japan, Taiwan, Korea, and China. I hope spring is around the corner for you. With piles of snow covering the landscape, we won't see spring until April or May. The winter is extremely long with a short summer in between.
______________________________________________
["The Vanishing at the Cecil Hotel"] - It's a Netflix Documentary!

Today, I wanted to introduce you to another cool and suspenseful Netflix Documentary. It's called, "The Vanishing at the Cecil Hotel." Right smack in the middle of Skidrow in Los Angeles, stands an ominous hotel that low-income or homeless people stay. The hotel has a strange history and reputation for murders, suicides, overdoses, drugs, foul-play, accidents, and other terrible incidents. It's as if there's a dark force or curse prevalent at the Cecil Hotel.
At the same time, this is a documentary of a true story about a young Chinese-Canadian girl named, Elisa Lam who travels from Vancouver, Canada to downtown Los Angeles alone. Unbeknownst to the girl, she is surrounded by danger and nefarious situations at the Cecil Hotel.
Suddenly, one day, the young girl disappears into thin air. The only clue Elisa leaves behind is a creepy video recording of her in the elevator acting in a bizarre way. She looks frightened as if someone is chasing her, and she makes odd hand gestures as if she's communicating with someone outside of the elevator. Then, she disappears out of the elevator to the left and that's the last time anyone sees her.
What happened to Elisa Lam?! This mystery has aroused the detective's curiosity in ordinary people, and there have been many YouTubers who have discussed this unsolved mystery on their YouTube channels. The documentary film retraces its tracks as the viewer follows the police, step-by-step, as the crime scene unfolds.

There are many extraordinary qualities about the film including the interviews with the people potentially involved in Elisa's disappearance. For example, the hotel manager, grunge-rock singer, and the maintenance man's testimonies are riveting to watch. The story's twisted plot is sure to keep you engaged and will pull you in so many different directions.
I don't want to be a "spoiler," so I'm not going to tell you anything else about the mystery except that it's definitely worth watching if you like true-crime stories. It's dark, creepy, scary, strange, and a bit off-beat, but I must say it satisfied my morbid curiosity. As you can already tell, this is not a kid-friendly documentary and I would recommend it for adults only.
_________________________________________________
If you would like to read more about the Cecil Hotel, please read the article below from the Town and Country magazine.
How Downtown L.A.'s Cecil Hotel Went From Lively Destination To "Hell On Earth"
https://www.townandcountrymag.com/leisure/arts-and-culture/a35526492/cecil-hotel-los-angeles-history/
The article says: "

The

Cecil

has seen more than its share of violence over the years: at least 16 people have

died

there, and it has been the location of countless other brutal crimes. Serial killer Richard Ramirez even called it home during

much of his 1985 murder spree."


(Town and Country Magazine)
___________________________________
Also, if you want to see the weird elevator scene where Elisa Lam was last seen, it's posted below. The video is so strange that it went viral.
[Elisa Lam in the elevator]
https://www.youtube.com/watch?v=3TjVBpyTeZM
_________________________________
I hope I intrigued you enough to watch this fascinating documentary. I understand if this type of documentary is not your cup of tea, but if you like true-crime mysteries, this is a "can't miss." I know we have to stay inside anyway because of COVID-19, and once you start watching it, I assure you that you can't stop. I hope it's a worthwhile way to spend the time. It's entertaining anyway!
Please stay safe during the pandemic. Just a reminder. . . Don't forget to wash or sanitize your hands, social distance, wear masks, and don't gather in large groups. I look forward to seeing you soon! Take care!
Warmest regards,
Lady Ayame
(Patricia Ayame Thomson)