Franzis
Conversation in German (Lesson pack)
Pack of 4

Conversation in German (Lesson pack)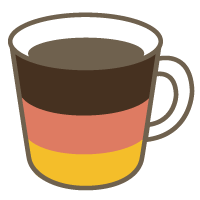 30min 4,800 Points (1,200 Points per lesson)
Skype Lesson
We will practice a conversation in German and can talk about every topic you are interested in. This is a lesson pack which includes 4 lessons thus you can save 100 Points for every lesson.

Material
Flexible
Lesson Pack Details
This is a 4-lesson pack. You will be issued 3 "coupons" when the first request is confirmed. You will be able to use these coupons for subsequent requests in the pack. Please note that all requests related to this pack must be taken within 45 days of the confirmation date of the first request.
Description
This course is a lesson pack which includes 4 lessons.

We will practice a

conversation in Germanand can talk about every topic you want to talk or know about. For example: Self introduction, hobbies or about work.
Together we will

improve your

"talking"

and

"hearing"

ability.
If you have any questions during the lesson, don't be afraid to ask me. :)
I have a lot of different teaching materials, therefore you don't need anything.
Furthermore, we can use the book "Begegnungen A1+", if you have this book and you want to use it.
This tutor's cancellation policy
Cancellation of pack lessons
• 'Unstarted' lesson packs
(1)
can be cancelled any time. Used Points will be completely refunded. If a 'started' lesson pack
(2)
is cancelled, you will be refunded 50% of the price of the remaining lessons provided that the lessons are unrequested, unconfirmed or not within 24 hours of their scheduled start times.
(1) A lesson pack for which none of the requests have been confirmed by the tutor.
(2) A lesson pack with at least one confirmed request. (By confirming the date and time for the first lesson in the pack the tutor confirms the pack as a whole and coupons are automatically issued)
Cancelling individual requests in a pack
• If you wish to cancel a single lesson that belongs to a pack but not the whole pack, you can do so via the request page. In this case, the coupon used to book the lesson will either be refunded or collected, based on the following policy.
---
Before request is confirmed (fixed)
• Cancellation possible at any time without charge.
After request is confirmed (fixed)
• Less than
24hours
before lesson start time.→ Coupon will be consumed.
•
No-Show
→ Coupon will be consumed.
Tutor's profile

From:

In:

Yes
All lessons offered by this tutor
Available Times
---
※ Times are shown in Asia/Tokyo. They'll convert to your timezone when you log in.
Feedback (19)
***oshida

今日はドイツ語作文の添削をしていただきました。内容は短い日記のようなものです。文法ミスはもちろん、より自然なドイツ語になおしていただくことが出来大変勉強になりました。FBもいつもながら大変充実しており「こんなによくしていただいていいものか」と思うほどです。

***oshida

今回は(ドイツ語で行われる)ドイツ語中に出てきた例文で、意味が取れなかったものについて質問しました。 文法について必要以上に細かく訊いてしまったのですが、丁寧に対応してくださりました。FBも大変充実していました。 前回の口コミで「日本語はお使いにならないよう」と書いてしまったのですが、そんなこと… more

***on07071981

Das hat auch Spaß gemacht.

***oshida

ALDItalkという格安SIMの使い方について質問・確認させていただいた後、文法に関する質問に答えていただきました。 授業は英語を交えつつ基本的にはすべてドイツ語で、日本語はお話にならないようです。 ですが大変フレンドリーかつ親切な先生で、授業の充実度は勿論ですが、フィードバックが他に類を見な… more

***on07071981

Der Unterricht macht heute viel Spaß. Ich mag das.