Franzis
Conversation in German 【30 Minutes】【Lesson Pack】
Pack of 4

Conversation in German 【30 Minutes】【Lesson Pack】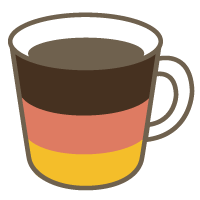 30min 4,800 Points (1,200 Points per lesson)
Skype Lesson
We will practice a conversation in German for 30 minutes and can talk about every topic you are interested in. This is a lesson pack which includes 4 lessons thus you can save 100 points for every lesson.

Material
Flexible
Lesson Pack Details
This is a 4-lesson pack. You will be issued 3 "coupons" when the first request is confirmed. You will be able to use these coupons for subsequent requests in the pack. Please note that all requests related to this pack must be taken within 50 days of the confirmation date of the first request.
Description
This is a lesson pack which includes 4 lessons.

We will practice a

conversation in German

for 30 minutes

and

c
an talk about

every topic

you are interested in. For example hobbies, your journeys or foreign countries.

Together we will

improve your

"talking"

and

"hearing"

ability in German.
I have prepared a lot of different

teaching materials

, so you don't have to worry about it.

Furthermore, we can use the book "Begegnungen A1+", if you own it.
If you have any further questions, don't hesitate to contact me.
This tutor's cancellation policy
Cancellation of pack lessons
• 'Unstarted' lesson packs
(1)
can be cancelled any time. Used Points will be completely refunded. If a 'started' lesson pack
(2)
is cancelled, you will be refunded 50% of the price of the remaining lessons provided that the lessons are unrequested, unconfirmed or not within 24 hours of their scheduled start times.
(1) A lesson pack for which none of the requests have been confirmed by the tutor.
(2) A lesson pack with at least one confirmed request. (By confirming the date and time for the first lesson in the pack the tutor confirms the pack as a whole and coupons are automatically issued)
Cancelling individual requests in a pack
• If you wish to cancel a single lesson that belongs to a pack but not the whole pack, you can do so via the request page. In this case, the coupon used to book the lesson will either be refunded or collected, based on the following policy.
---
Before request is confirmed (fixed)
• Cancellation possible at any time without charge.
After request is confirmed (fixed)
• Less than
12hours
before lesson start time.→ Coupon will be consumed.
•
No-Show
→ Coupon will be consumed.
Tutor's profile

From:

In:

1492

Lessons

214

Students
Yes
All lessons offered by this tutor
Available Times
---
※ Times are shown in Asia/Tokyo. They'll convert to your timezone when you log in.
Feedback (28)
***i0730

本日は2回目の授業でした。前回も今回も、フランシス先生はとても丁寧に教えてくださいました。また、授業後にはしっかりとしたフィードバックや宿題も出してくださるので、授業の内容を自分で復習することができます。 いつかネイティブスピーカーとドイツ語で話せるようになるためにドイツ語の勉強を頑張りたいと思い… more

***lala.yuko

Franzis先生はとても優しい方で、毎回レッスンを楽しんでいます。娘は今はドイツに留学してしまいましたが、親子共々お世話になっています。レベルに合わせてくださり、穏やかに進むレッスンは本当に楽しいです。

***ion

B2試験対策をして頂いたのですが、合格のためにレター添削や、口頭試験対策を熱心にして頂いて助かりました。話しやすい先生なので、会話レッスンもリラックスしてとりくめます。

***lala.yuko

Franzis先生には母娘ともお世話になっています。娘はドイツに留学する前に教えて頂きました。私は初心者ですが、いつもとても優しく教えてくださり、毎回楽しくレッスンを受けています。とてもお勧めできる先生です。