Pack of 4

[Pack] Intermediate Swedish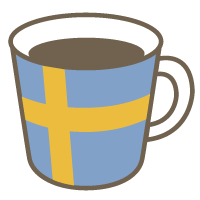 50min 8,800 Points (2,200 Points per lesson)
Skype Lesson
For who have mastered my Swedish for Beginners lessons! This is a 4-lesson pack of Intermediate Swedish.

Material
Textbook - Rivstart B1-B2/Övriga läromaterial
Lesson Pack Details
This is a 4-lesson pack. You will be issued 3 "coupons" when the first request is confirmed. You will be able to use these coupons for subsequent requests in the pack. Please note that all requests related to this pack must be taken within 45 days of the confirmation date of the first request.
Description
If you have not taken my Swedish lessons for beginners yet but hope to start this lesson, I highly recommend you to take my counseling first. We will speak Swedish entirely in the lesson, but I can always provide some help in English. We will use the textbook "På Svenska," and I have my own copy of that textbook. I can send you a scan of the parts from the textbook which we will go over prior to the lesson, so you do not have to buy one for your own.



【 Cafetalk Translation / November 2018 】
This tutor's cancellation policy
Cancellation of pack lessons
• 'Unstarted' lesson packs
(1)
can be cancelled any time. Used Points will be completely refunded. If a 'started' lesson pack
(2)
is cancelled, you will be refunded 50% of the price of the remaining lessons provided that the lessons are unrequested, unconfirmed or not within 24 hours of their scheduled start times.
(1) A lesson pack for which none of the requests have been confirmed by the tutor.
(2) A lesson pack with at least one confirmed request. (By confirming the date and time for the first lesson in the pack the tutor confirms the pack as a whole and coupons are automatically issued)
Cancelling individual requests in a pack
• If you wish to cancel a single lesson that belongs to a pack but not the whole pack, you can do so via the request page. In this case, the coupon used to book the lesson will either be refunded or collected, based on the following policy.
---
Before request is confirmed (fixed)
• Cancellation possible at any time without charge.
After request is confirmed (fixed)
• Less than
48hours
before lesson start time.→ Coupon will be consumed.
•
No-Show
→ Coupon will be consumed.
Tutor's profile

From:

In:

Yes
Available Times
| | | | | |
| --- | --- | --- | --- | --- |
| Thu | 19:30 | - | | 20:30 |
| Fri | 19:30 | - | | 20:30 |
May change depending on week
Hello!/Hej hej! /こんにちは! My name is Kei S-Schönberg. Thank you for visiting my profile page! At Cafetalk, I enjoy teaching Japanese, English and Swedish. The more you learn those la...
All lessons offered by this tutor
All Lessons
Swedish
English
Available Times
---
※ Times are shown in Asia/Tokyo. They'll convert to your timezone when you log in.
Feedback (19)
***ri07

今回はなぞなぞがテーマの「Gåtor」を読みました。 日本のなぞなぞと少し違ったユーモアがあって、一人ではなかなかオチを理解することが難しかったのですが、 先生に日本語で解説をしていただいて、楽しく読むことができました! 毎回いろんな種類の教材を使っていただけるので、とても… more

***ri07

スウェーデン語の中級コースとフリートークのレッスンを受講しています。 先生がレベルに合わせて選んでくださる教材は、文法や読解の練習はもちろん、スウェーデンの生活や歴史も一緒に学べる内容となっていて、とても勉強になります。 また、私のその時々の学習に対するモチベーションや様子を見ながら、授… more

***ri07

今回はギリシャ神話がテーマの教材を読みました。 今使っている教材は毎回違ったテーマを扱っているので、とても勉強になります。 また、先生が細かい歴史や文化の背景を補足をしてくださるので、どんどん学ぶことが楽しくなってきました!

***ri07

今回はお菓子のレシピがテーマの教材を読みました。 後半の問題を解く練習で、受動態の文章での答え方を教えていただきました。 文法本で勉強したものの、文章の中で上手く使うことができなかったのですが、今日のレッスンでコツが掴めました。ありがとうございます(^^)

***ri07

今回は「Islandshästen」というお話を読みました。 アイスランドのポニーの特徴や歴史が知れて、内容も面白かったです。 よくお祭りの時にポニーを見かけて気になっていたので、また一つ豆知識が増えて嬉しいです。 後半の質問のコーナーでは、自分が考えていた答えを自然な言い方… more