Pack of 4

[Pack] French courses (Customized) (50 min)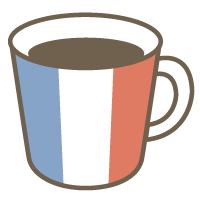 50min 7,800 Points (1,950 Points per lesson)
Skype Lesson
Feel free to choose

Material
Flexible
Lesson Pack Details
This is a 4-lesson pack. You will be issued 3 "coupons" when the first request is confirmed. You will be able to use these coupons for subsequent requests in the pack. Please note that all requests related to this pack must be taken within 30 days of the confirmation date of the first request.
Description
Who is this lesson aimed at?
This lesson targets two types of people:
Those who want to take French classes following a structured and organized method.

Newcomer, beginner, elementary or intermediate (A0, A1, A2, B1, B2).

Those who have a specific question or want to review a grammar point.
What would you be able to do with this course?
✎ You will learn:
Reach the level of your choice in French:
☞
Newcomer
(A0) > beginner (A1)
(Approximately 50 lessons)

Can understand and use familiar everyday expressions and very basic phrases. Can introduce him/herself and others and can ask and answer questions about personal details such as where he/she lives, people he/she knows and things he/she has. Can interact in a simple way provided the other person talks slowly and clearly.
☞ Beginner (A1) ~ elementary (A2)
☞ Elementary (A2) ~pre-intermediate (B1)
☞ Pre-intermediate (B1) ~ intermediate (B2)
What you need
Nothing.
I will send you copies of the manuals.
This is not mandatory, but if you wish to obtain it, you will find references above.
This tutor's cancellation policy
Cancellation of pack lessons
• 'Unstarted' lesson packs
(1)
can be cancelled any time. Used Points will be completely refunded. If a 'started' lesson pack
(2)
is cancelled, you will be refunded 50% of the price of the remaining lessons provided that the lessons are unrequested, unconfirmed or not within 24 hours of their scheduled start times.
(1) A lesson pack for which none of the requests have been confirmed by the tutor.
(2) A lesson pack with at least one confirmed request. (By confirming the date and time for the first lesson in the pack the tutor confirms the pack as a whole and coupons are automatically issued)
Cancelling individual requests in a pack
• If you wish to cancel a single lesson that belongs to a pack but not the whole pack, you can do so via the request page. In this case, the coupon used to book the lesson will either be refunded or collected, based on the following policy.
---
Before request is confirmed (fixed)
• Cancellation possible at any time without charge.
After request is confirmed (fixed)
• Less than
12hours
before lesson start time.→ Coupon will be consumed.
•
No-Show
→ Coupon will be consumed.
Tutor's profile

From:

In:

4754

Lessons

389

Students
Yes
Available Times
| | | | | |
| --- | --- | --- | --- | --- |
| Mon | 06:00 | - | | 08:00 |
| Mon | 09:00 | - | | 12:00 |
| Mon | 13:30 | - | | 23:30 |
| Tue | 06:00 | - | | 08:00 |
| Tue | 09:00 | - | | 12:00 |
Hello everyone, my name is Nico. I'm living in Kansai, Japan. ♪ My career history I have a university degree in French Teaching (FLE) and French Literature. In my native country, I mainly worke...
All lessons offered by this tutor
Available Times
---
※ Times are shown in Asia/Tokyo. They'll convert to your timezone when you log in.
Feedback (24)
***EFRANCOIS

短い時間を有効にポイントや欠点をすぐに捉えて、わかりやすく説明してくれます。

***ib

いつもニコニコ笑顔が絶えない穏やかな先生です。9歳の子供がレッスンを受講させて頂いていますが、嫌がらずに、むしろ毎回レッスンを楽しみにしています。遊んでいるわけでもなく、しっかり勉強しているのに子供が楽しめるレッスン。先生が選ぶ本のセンスも子供が気に入っています。

***han

前もって記事をいくつか送ってくださるのでその中から興味のあるものを選んでレッスンにのぞみます。発音のチェックもしてくださるし、先生の方から質問を投げかけてくださるのでとても充実感のあるレッスンです。指導がとても丁寧です。

***a_f

私の大好きな教材「Edito」を使って試験対策とはちがう角度からフランス語を学習しています。「Taxi」からはじめたフランス語ですが、先生の指導のおかげで少し難しいものにも取り組めるようになったかなあと思います。テレビニュースでフランス語のインタビューが耳に入ってくるとき、自然に聴こえて理解できるよ… more

***a_f

Merci de tout mon coeur pour ton soutien en apprenant le français !