Pack of 4

[Pack] Swedish Starters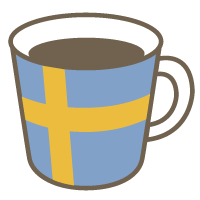 50Min 7,400Puntos (1,850 Points per lesson)
Skype Lesson
Want to start learning Swedish? Let me be your help!

Material didáctico
Material propio
Lesson Pack Details
This is a 4-lesson pack. You will be issued 3 "coupons" when the first request is confirmed. You will be able to use these coupons for subsequent requests in the pack. Please note that all requests related to this pack must be taken within 45 days of the confirmation date of the first request.
Detalles de la lección
We will use the textbook "På Svenska" in the lesson. I have one copy of the textbook, so you do not have to buy one for your own.



【 Cafetalk Translation / November 2018 】
Política de cancelación del(de la) tutor/a
Cancellation of pack lessons
• 'Unstarted' lesson packs
(1)
can be cancelled any time. Used Points will be completely refunded. If a 'started' lesson pack
(2)
is cancelled, you will be refunded 50% of the price of the remaining lessons provided that the lessons are unrequested, unconfirmed or not within 24 hours of their scheduled start times.
(1) A lesson pack for which none of the requests have been confirmed by the tutor.
(2) A lesson pack with at least one confirmed request. (By confirming the date and time for the first lesson in the pack the tutor confirms the pack as a whole and coupons are automatically issued)
Cancelling individual requests in a pack
• If you wish to cancel a single lesson that belongs to a pack but not the whole pack, you can do so via the request page. In this case, the coupon used to book the lesson will either be refunded or collected, based on the following policy.
---
Antes de que la solicitud haya sido confirmada.
• Es posible hacerlo en cualquier momento.
Luego de que la solicitud de clase haya sido confirmada
•
Menos de 48 horas
antes de que la clase de comienzo→ Coupon will be consumed.
•
No-Show
→ Coupon will be consumed.
Perfil del(de la) tutor/a

From:

In:

Yes
Horarios disponibles
| | | | | |
| --- | --- | --- | --- | --- |
| Thu | 20:00 | - | | 21:00 |
| Sat | 20:00 | - | | 21:00 |
May change depending on week
Hello!/Hej hej! /こんにちは! My name is Kei S-Schönberg. Thank you for visiting my profile page! At Cafetalk, I enjoy teaching Japanese, English and Swedish. The more you learn those la...
Todas las clases del (de la) tutor/a
Horarios disponibles
---
※ Visualizar en tiempo de: Asia/Tokyo. Iniciar sesión para ver hora local.
Devolución de los estudiantes (2)
***i.sunnylily

 スウェーデン語を教えてもらいました。丁寧に1から教えてくださいました。英語以外を極めて、他言語を挑戦する方には、マイナーな言語ほど有利になる場面があるかもしれません。頑張っていずれ先生とスウェーデン語でお話が続くように頑張ります。厳しいけど、身につくと思いました。

***i.sunnylily

Tack så mycket för lektionen idag. Kei-san är jättebra. Jag gillar din lektionen!